Experience the one-of-a-kind shops that line Old Highway 49 (Main Street) in Amador City. From antiques and home decor to gift items … clothing and accessories, there is a "great find" waiting for you in this historic California Gold Country town.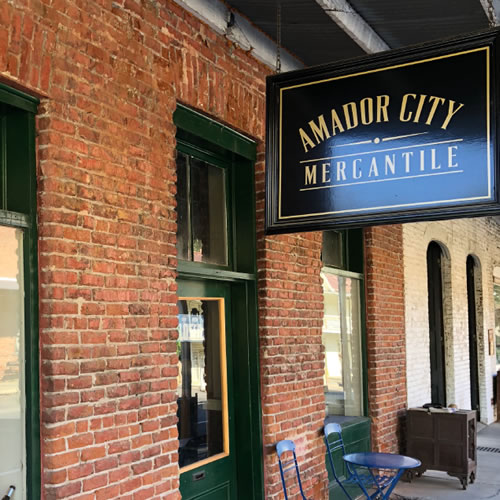 AMADOR CITY MERCANTILE
14167 Main Street
Amador City, CA 95601
209-890-6284
amadorjoyced@hotmail.com
(no website)
Gifts and Home Accessories. Like the mercantile stores of the Gold Rush era, they are packed with everything needed for a well appointed dining room and kitchen. Discover how easy it is to fill in that missing piece of kitchen equipment or dining table appointment you could not find anywhere else.
Thursday – Sunday
10 AM – 5 PM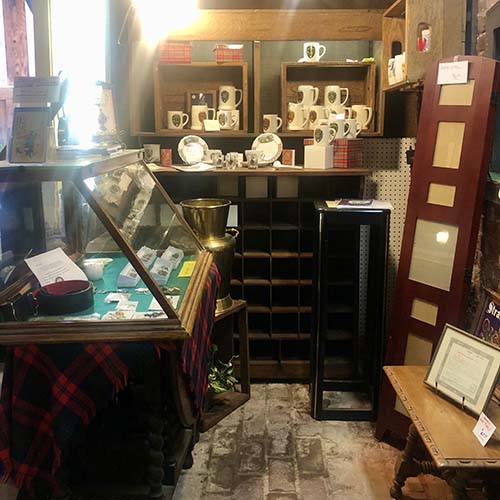 HEATHER IN THE HILLS
14181 Main Street and Pig Turd Alley
Amador City, CA 95601
209-267-0315
tickyhca@yahoo.com
(no website)
Take a stroll down Pig Turd Alley to a little bit of Scotland. Heather in the Hills has tartan patterned scarfs, neckties, books about Scotland , teapots dishes, vintage scales, trade stimulators and slot machines.. Gifts for all your family and friends. You can almost hear the bagpipes playing as you browse through this charming shop. We also buy your antiques. Come by!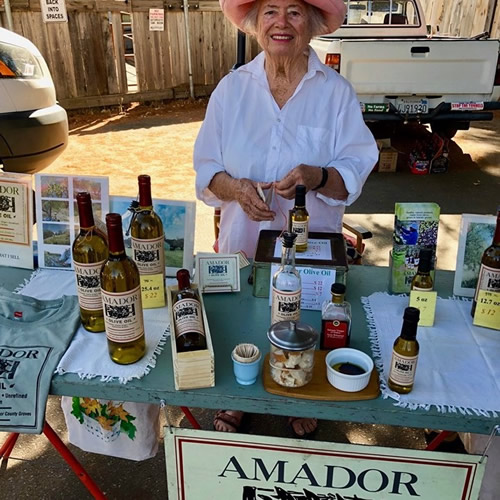 AMADOR OLIVE OIL
Amador Farmers Markets
209-267-5506, 209-304-3042
amadorolive@twinwolf.net
Available at Made in Amador
Amador Olive Oil was started in 1995, harvesting olives from Amador County only. Since 1998 Amador Olive Oil harvests from its own historic farm and trees. Amador Olive Oil sells at local Farmers Markets plus local shops and wineries. Oil is bottled in three sizes: 5oz, 12.7oz and 25.4oz, is unfiltered and farmed organically, no pesticides or herbicides. The business is small and meant to stay small and local.
3 FISH STUDIOS
14196 Hwy 49, Suite 3
Amador City, CA 95601
hello@3fishstudios.com
www.3fishstudios.com
This popular San Francisco art gallery is now in Amador City! Browse a colorful selection of paintings, woodcut prints, and reproductions inspired by California and created by husband and wife artists Eric Rewitzer and Annie Galvin. Woody the dog is often on hand, too. Come visit! Open 12ish to 4ish on the weekends.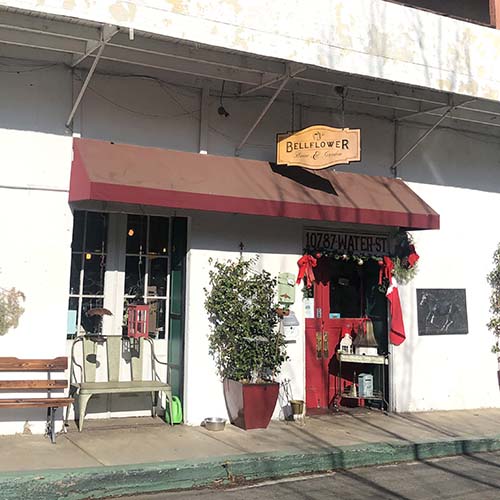 BELLFLOWER HOME & GARDEN
10787 Water Street
Amador City, CA 95601
209-267-1985
bellflowergarden@hotmail.com
Large inventory of unique home and garden decor. Clocks, mirrors, bird houses, decorative hooks & knobs, ceramics and more. Explore out garden area featuring iron animal art for the yard, garden gates, arches, trellises, seating and more. Free Delivery of large items within 50 miles. Gift cards available.
Friday – Sunday
10 AM to 5 PM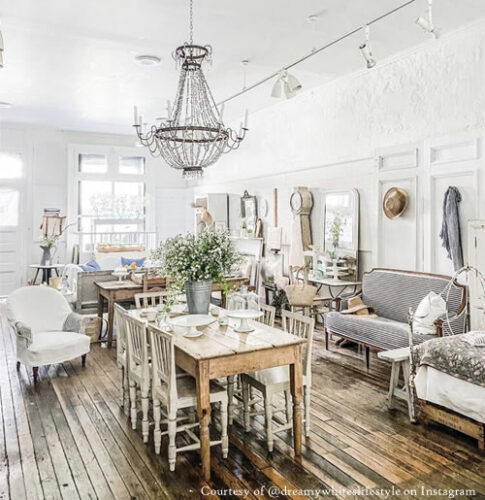 DREAMY WHITES
14183 Main Street
Amador City, CA 95601
contact form
https://dreamywhitesatelier.com
Specializing in French antiques and decor. You will find a wide variety of hand sewn pillows, totes, table runners and aprons. Take a step into the French countryside right here in the heart of Gold Country.
Friday & Saturday
11 AM – 5 PM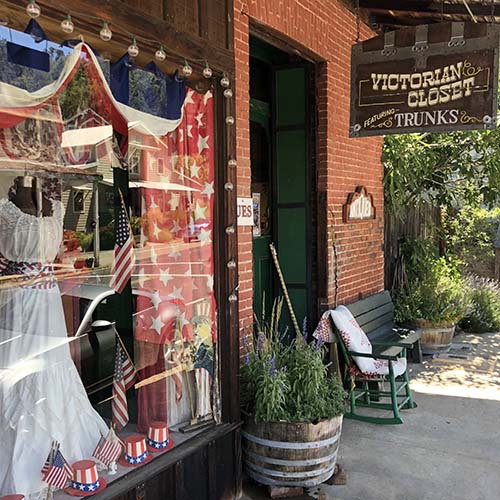 THE VICTORIAN CLOSET
14176 Main Street
Amador City, CA 95601
209-267-5250
sally@thevictoriancloset.com
After 47 years in the same location, The Victorian Closet is part museum, part store. Filled to the brim with an amazing array of antique items, focused on fine laces, textiles, quilts, vintage clothing, sewing accoutrements and other treasures.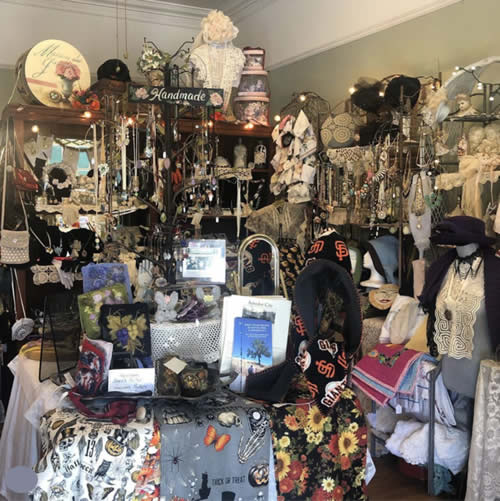 NANCY'S HANDMADE GIFTS
14196 Main Street, Suite 4
Amador City, CA 95601
209-304-5241
nancrafts@aol.com
(no website)
Handmade jewelry, home décor and wearable art.
Wednesday – Sunday
10 AM – 5 PM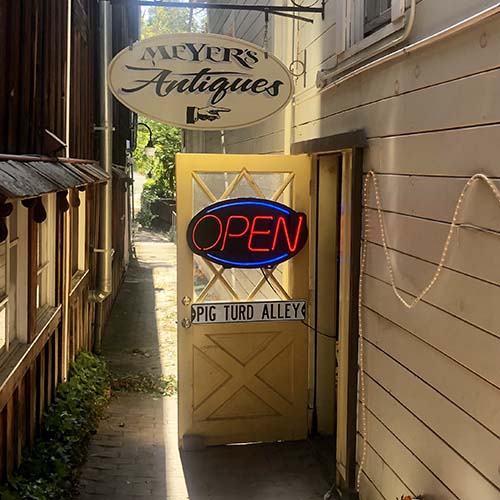 MEYER'S ANTIQUES
14181 Main Street & Pig Turd Alley
Amador City, CA 95601
Bud and Penny Meyer
510-506-0363
pennymeyerca@yahoo.com
Visit Meyer's Antiques which is full of vintage slot machines, penny arcade machines, turn of the century advertising, photos and more. Things you would enjoy for your own "man cave". Still located in this store is the ovens that the town's baker used to feed the thousands of miners that lived in Amador City in the Days of 49. Worth the stop in this historic mining town.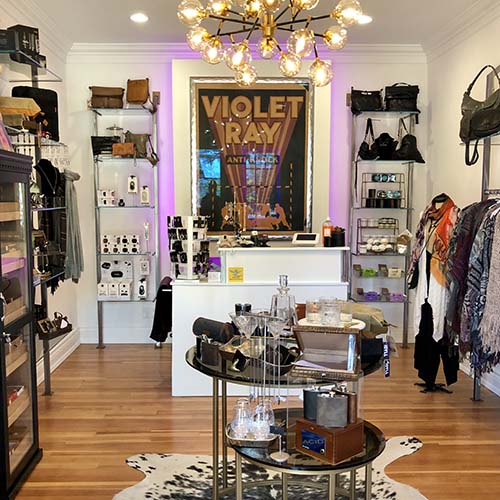 IDYLL
14204 Main Street, Suite B
Amador City, CA 95601
(209) 712-9589
sayhey@idyllac.com
Curated, artfully designed personal accessory gifts for all including cigars, barware, handbags, jewelry, clean beauty, and travel accessories.