AMADOR COUNTY ~ Attractions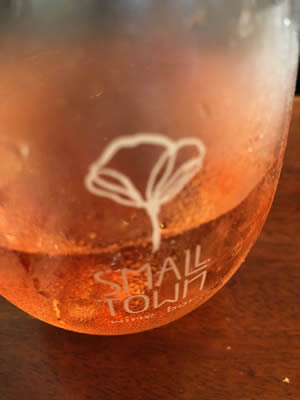 About Amador County
Located in the Sierra Nevada Foothills about 45 miles southeast of Sacramento, Amador County is quickly becoming an area known for beautiful scenery, excellent wine and its rich historic experience. Amador County bills itself as "The Heart of the Mother Lode" and lies within the Gold Country. There is a substantial wine-growing industry in the county. Along with Napa Valley AVA and Sonoma Valley AVA wine growing regions of California, the Shenandoah Valley has become a thriving and popular wine growing region of California.
Amador Wine Country
Visit the 40+ wineries of Amador County. Most are small family operations where unpretentious hospitality is the norm. All are located along scenic backroads in some of California's most picturesque rural settings. You can sip wine while gazing at the beautiful, snow-capped Sierras and picnic under grand old oak trees surrounded by vines. And Amador wineries are easy to reach, nestled between highways 50 and 88 along historic Highway 49. Amador is renowned for producing California's finest zinfandels, some of them crafted from 19th-century vines. In recent years, Amador vintners have also begun producing delicious wines from Rhône Valley and Italian varietals, including syrah, viognier, barbera, and sangiovese. Along with Amador's prized zinfandels, these bottlings have earned enthusiastic praise from critics and wine lovers worldwide. In Amador County, visitors experience the rich history of a community born of gold that today is flourishing on the nectar of distinctive, world-class wines. Please visit https://amadorwine.com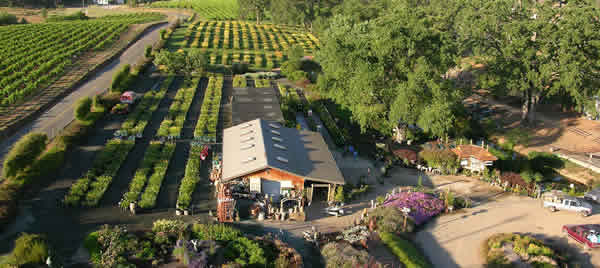 Amador Flower Farm
22001 Shenandoah School Rd, Plymouth 95669
(209) 245-6660
https://amadorflowerfarm.com
Offers nearly 1000 daylily varieties at the Flower Farm itself, which is nestled in beautiful Shenandoah Valley. Demonstration gardens – 13 acres to walk over and free Picnic areas on the grounds.
Open Hours 9-4 everyday
Closed Mon-Wed in Dec, Jan & Feb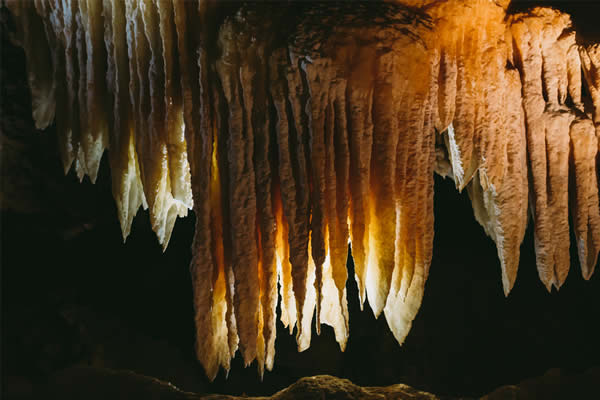 Black Chasm Cavern
Gold Country Adventures offers 45 minute guided walking tours through the spectacular Black Chasm Cavern. Guests can expect to descend 165 steps into the cavern and visit three highly decorated chambers. On the tour guests can view sparkling crystals, a vivid blue lake and incredibly rare helictite formations that seemingly defy gravity by twisting and curling from the cavern walls in every direction. Black Chasm Cavern was designated a National Natural Landmark by an act of Congress in 1976 due to the proliferation of helictite formations found in the cavern.
Guided tours leave on the hour every day of the year.
Above ground we offer a variety of activities that the entire family can enjoy. Sand bags salted with real gems and crystals can be purchased at the visitor center and sifted through using our operational mining flume. Geodes are available for purchase as well and an experienced guide will help you crack open these stones to reveal the hidden crystals inside. Furthermore the visitor center offers a wide selection of mineral specimens, books, toys and jewelry for sale to take home as souvenirs.
For more information visit https://blackchasmcavern.com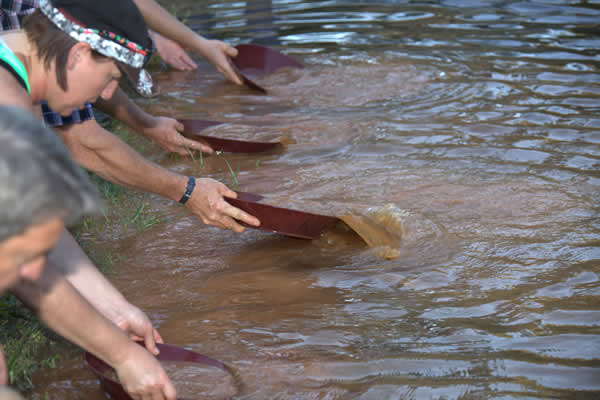 Roaring Camp Mining Company
Open May through September: Cabins, tent sites, fishing, river swimming, gold panning tour, prospecting. Roaring Camp is something special in the way of family recreation. It is an old goldmining camp on the Mokulmne River. In the past, it was accessibly only by horseback. Roaring Camp was once a camp for Forty Niners, but since it was so inaccessible, most of the gold still remains. Visitors can see our operating gold mine an can mine their own gold by panning, sluicing, dredging, and dry washing. In the Mokulumne Canyon, the three forks of the Mokelumne River come together. It is a river unsurpassed in natural beauty. The water is so clear that one can watch the tadpoles and fish swim. There are waterfalls and natural rock formations forty feet high. There is also a quiet, secluded "swimming hole" with rocks of varying sizes, ideal for diving by those who dare! Be sure to bring your fishing gear. The fishing here is excellent!
Calaveras Big Tree State Park
Calaveras became a State Park in 1931 to preserve the North Grove of giant sequoias. This grove includes the "Discovery Tree", the first Sierra redwood noted by Augustus T. Dowd in 1852. This area has been a major tourist attraction ever since, and is considered the longest continuously operated tourist facility in California.
Chaw'se Indian Grinding Rock State Park
Indian Grinding Rock State Historic Park is located in the Sierra Nevada foothills eight miles east of Sutter Creek. The park nestles in a little valley 2,400 feet above sea level with open meadows and large valley oaks that once provided the native Americans of this area with an ample supply of acorns. The 135-acre park was created in 1968 and preserves a great outcropping of marbleized limestone with some 1,185 mortar holes — the largest collection of bedrock mortars in North America.
Eldorado National Forest
Located in Amador County's backyard for great high sierra adventure. Established in 1910, theEldorado hosts over 2.1 million visitors each year. The Forest offers a wide variety of recreational opportunities to the forest visitor looking to explore, seek out new adventures, or revisit old memories.
Kirkwood Ski Area
Kirkwood Ski Area approximately 55 miles East of Sutter Creek on Highway 88. Best ski area in Amador County.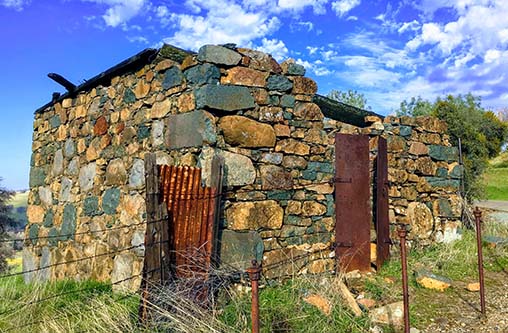 Historical Walking Map of Amador City
Amador is packed with history! Come and explore on foot!
Gold Mine Trail Sutter Creek
All Amador mines including the Central Eureka Mine were closed in 1942. The Central Eureka reopened in 1947 and continued strong until its August, 1958 closure. The City of Sutter Creek received the 17-acre site as a gift from private owners, and walking trails will be established around the preserved headframe and stamp mill. The brochure has a map and descriptions of each Amador County Gold Mine.
» Download the map and brochure here.
Historic Kennedy Gold Mine Surface Tours
Take a fascinating tour of one of the most famous mines of the Mother Lode, the historic Kennedy Gold Mine!
Preston Castle
One of the oldest and best-known reform schools in the United States. It is located in Ione, California, in Amador County. Tours of Preston Castle are available from 10 am – 1 pm on the first and third Saturdays of every month.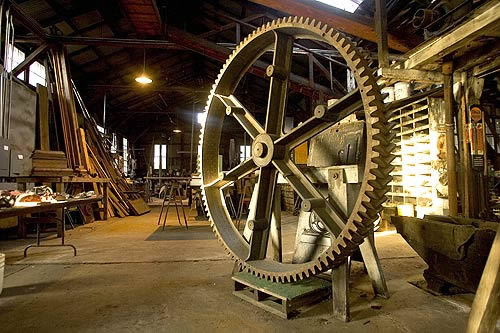 Knight Foundry
Sutter Creek's Historic, Industrial Crown Jewel. The Knight Foundry, set in the heart of Sutter Creek, California, is America's last water-powered foundry and machine shop. Established in 1873 by Samuel Knight, this extraordinary facility includes the unique historic equipment and machinery, still in place in its original context, just as it was during its Gold Rush-era heyday.
Knight Foundry is nationally recognized as a National Historic Mechanical Engineering Landmark and a California Registered Historical Landmark. The Foundry is listed on the National Register of Historic Places and was named by the National Trust for Historic Preservation as one of America's eleven most endangered historic places.
2nd Saturday Self-Guided Tours at Sutter Creek's Historic Knight Foundry
Knight Foundry in Sutter Creek is America's last water-powered foundry and machine shop and a premier relic of Mother Lode gold mining history. Join us for a Self-Guided Tour on the second Saturday of every month. Reservations needed.
More info: https://knightfoundry.com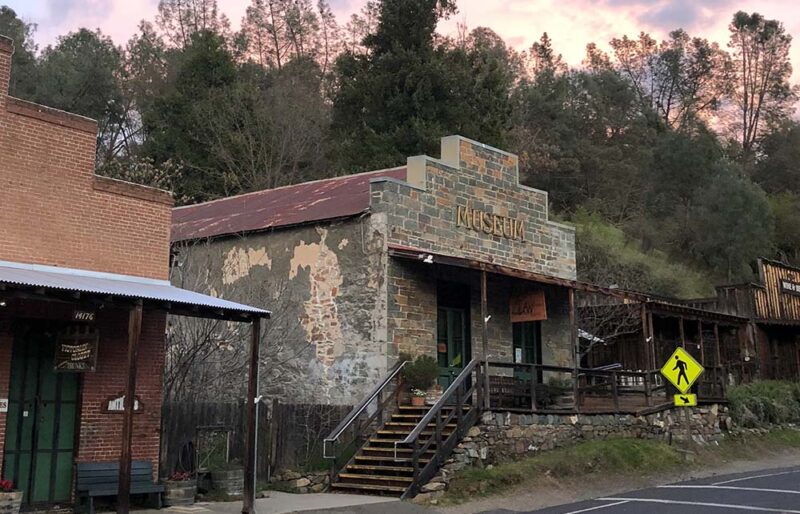 Amador Whitney Museum
14170 Old Route 49
Amador City, CA
Friday – Sunday: Noon – 4:00 PM
The Amador Whitney Museum exists to educate on the public about Women's Role in the Gold Rush. It covers contributions and experiences of women who have lived in the Mother Lode, from the distant past to the present day. Stop in and check out his fascinating look into the past, through the eyes of the strong women of that era.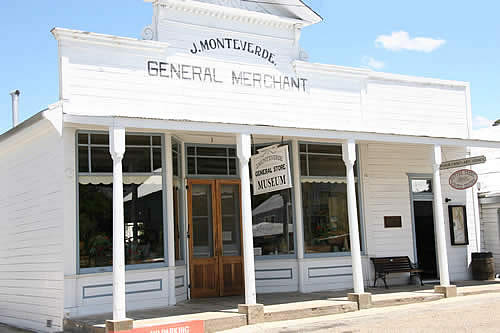 Monteverde Store Museum
The Monteverde Store Museum, which opened as a country store in 1896, still displays all the paraphernalia of the past on its shelves. Dry goods, hardware, bulk products, apparel, patterns, even penny candy were on hand for local shoppers. It is preserved as it was in 1971 when the last owner closed the doors for a few days and never reopened. It can be viewed by appointment with the senior docent.
Call (209) 267-0493 or (209) 267-1344 to make arrangements.